Watch The Video Below & Discover:
How Regular People Are Losing 10-30 Pounds In Their FIRST 16 Weeks - Without Dieting And Working Out Just A Few Hours Per Week!
Join Over 833 Clients Getting Results With Our Proven Weight Loss Blueprint
This proven process works regardless of your fitness experience, or how much weight you have to lose...
Sierra
8 Month Transformation
Lost several lbs and 16+ inches (waist & hips)
Michaela
4 Month Transformation
Lost 20 lbs and several inches
Yasmin
6 Month Transformation
Lost 10 lbs and 7 inches
(waist & hips)
Age is just a number!
Amy got in the best shape of her life at 52 years young (and now she's one of our LFL Coaches!)
Ready To Start Getting Visible Results?
Join Over 833 Clients Getting Results With Our Proven Weight Loss Blueprint - Even When Nothing Else Has Worked Before
A Quick Overview Of The Process
The Metabolic Boost Blueprint
This program will help you if you:
Have stubborn body fat that just won't come off

Tried other approaches in the past that didn't seem to work

Feel like you have a 'slow' metabolism

Don't want to try (or fail) another 'Fad Diet'
Our expertise lies in creating a custom-tailored plan for your unique lifestyle and situation then holding you accountable to the plan to help you start losing weight and getting toned.
We help our clients build healthy habits while focusing on the essential things to get results quick but in a sustainable, lifestyle friendly way. Most of our clients lose between 10-30 pounds in the first 16 weeks following our proven weight loss framework, and we can help you do the same.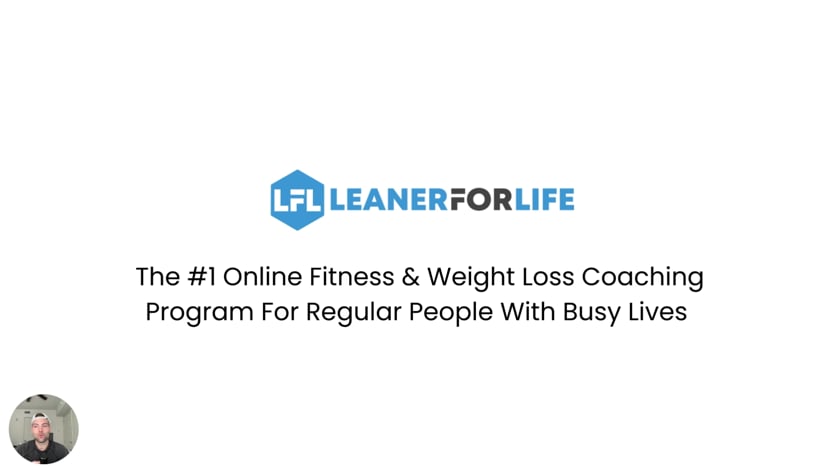 What are you waiting for? Let's get you started on the transformation of your life!
Imagine raving about being down full pant sizes and shocked at the progress you're seeing, like these clients did on their Weekly Check-Ins...
Julia
5 Month Transformation
Lost 10 lbs and 5 inches
(waist & hips)
Katie
12 Month Transformation
Lost 32 lbs and several inches
Gabriela
6 Month Transformation
Lost 16 lbs and 6 inches
(waist & hips)
Bonnie
9 Month Transformation
Lost 50 lbs and 19 inches
(waist & hips)
Kylee
4 Month Transformation
Lost 27 lbs and 11 inches
(waist & hips)
Robbie
12 Month Transformation
Lost 50+ lbs and several inches
I Want Results Like This Too - Let's Get Started!
Mackenzie
6 Month Transformation
Lost 35 lbs and several inches
Michaela
6 Month Transformation
Lost 17 lbs and several inches
Whitney
3 Month Transformation
Lost 10 lbs and several inches

Kim
9 Month Transformation
Lost 39 lbs and 14.5 inches
(waist & hips)
Katie
12 Month Transformation
Lost 40+ lbs and several inches
Sarah
9 Month Transformation
Lost 25 lbs and 7 inches
(waist & hips)
Over 440,000 People Follow Me On Instagram For One Reason: I Make Weight Loss Simple.
Hi, I'm Carter Good, head coach here at Leaner For Life, and first off... I know what it's like to be in your shoes.
I used to weigh over 305 lbs, and know what it's like to struggle day in and day out, just trying to find anything that works. After a 2-year weight loss journey, I finally figured out a simple and sustainable way to lose weight - and keep it off - and lost over 145 lbs.
(Yes, I lost 145 lbs before coaching a single person.)
Now, I help people who struggle like I used to. The weight loss industry is so confusing - all these diet plans, gurus, and "magic pills" makes it nearly impossible for regular people like you and me to sift through the BS and just get straight advice on what to do.
That's why I made it my mission to "de-mystify" fitness and nutrition - and this mission has attracted a loyal audience of more than 440,000 followers (and growing!).
My team and I here at Leaner For Life are on a mission to make fitness and nutrition simple so you can reach your goals without your world revolving around your diet.
So far, we've helped over 834+ clients get results using our proven process called the Metabolic Boost Blueprint - and we can absolutely help you do the same.
Meet The Team
Behind The Transformations
Meet The Team Behind The Transformations
Coach Amy Rudolph
Hi, I'm Amy Rudolph and I'm a very proud member of the Leaner for Life Coaching Team! My desire to help people live their best, healthiest lives dates back to (almost the dinosaurs) when I became a physical therapist.
Through the ups and downs of life - raising two kids, working on relationships, and all that jazz - I put myself last and as a result, my health suffered. I've been through so many "diet plans" and "quick fixes" that I truly felt defeated and confused.
Even with my healthcare background, I struggled with how to put it all together. When I decided to make myself a priority, through the fate of Instagram, I was put in touch with Carter Good. I became his client in 2018 and I have never looked back.
At the young age of 52, I am in the best shape/health of my life! I lost 30 pounds, I lift heavy weights on the regular, and my energy is boundless. If I can do it, so can you... I am beyond inspired to help you do the same!
Coach Miranda Hoidal
What's up guys! Miranda Hoidal here... I'm 27 years old, married to my high school sweetheart and have two giant fur children (Koda and Chester).
Growing up, I was always active and I started playing sports at age 3. This passion of mine developed and I was fortunate enough to continue my soccer career as a goalkeeper for (Division II) Western Washington University where I graduated in 2016 with a BS in Kinesiology.
As a coach, you'll find that I'm always positive. I'll never beat you down or be upset about what you eat or what workouts you miss... I have helped a lot of people lose weight, but my biggest desire is to help clients find their confidence in strength training and building a healthier relationship with food.
Focusing on strength training and finding the best way for YOU to stay in a consistent calorie deficit will not only lead to your "dream body," but will give you the confidence you never knew you had.
Coach Kevin Driscoll
HEYO! My name is Kevin Driscoll, the coffee drinking, donut eating, and FRIENDS trivia KING!
Boston born and raised, I have a strong passion for health and fitness... I've gone through my own physical and mental challenges with fitness, and now I am determined to help as many people as I can transform their lives and realize what they are truly capable of.
I have gone through the ups and downs of being super strict, then falling off the wagon when it gets too hard. What I have found is that you can actually eat donuts and pizza and still create amazing results... Crazy, right?!
I feel as though I need to spread this message! I want to prove to people that it doesn't have to be all or nothing, or the "perfect regimen". We will team up and work together on building your consistency and discipline with your nutrition and exercise, in a way that still allows you to enjoy the things you love!
Coach Josey Koke
Hey, Hey! Josey Here. I am 29 years old, born & raised in the beautiful state of Montana & married with a beautiful daughter. I'm a very family-oriented person & I believe that it is so important to take care of my mind, body & soul so I can show up as the best mother, wife and friend.
After struggling to find a solid fitness routine, I eventually found my way to strength training and started my first lifting program in 2011. I fell in love with the process and I realized that helping others feel confident was what I wanted to do for a career. I have a wide variety of certifications & specialties including CFL1, Precision Nutrition L1, Balanced Body Barre & Pregnancy & Postpartum Athleticism.
When working with me, I focus primarily on weight lifting with metabolic conditioning, along with pre-hab and mobility. In the past year, I have been working with several pregnant & postpartum mothers on how to stay active through pregnancy and beyond.
I understand that life has its ups and downs, I believe that one thing that can help you through it is movement & living a healthy lifestyle.
Join Over 833 Clients Getting Results With Our Proven Weight Loss Blueprint
Questions? We've Got Answers.
Get Started Now!
Join Over 833 Clients Getting Results With Our Proven Weight Loss Blueprint - Even When Nothing Else Has Worked Before
Terms & Conditions  |   Privacy Policy  |   Contact
All Rights Reserved 2022 © Copyright CarterGood.com

† Results Can And Will Vary From Person To Person. We can't guarantee you'll see results of your own because everyone applies different effort to a program. You know this, but it must be said nonetheless. For more information regarding this, please see below.
Content On The Site: We use cookies to help improve, promote and protect our services. By continuing to use this site, you agree to our privacy policy and terms of use. The author of this site is not engaged in rendering professional advice or services, nor should this content be taken as professional advice. The ideas and suggestions expressed on this site are not intended as a substitute for consulting with your physician, and you should consult a physician before starting any new health-based program, as well as seeking medical supervision. The author shall not be liable or responsible for any loss or damage allegedly arising from any information or suggestions within this website or the content herein. You, as a reader of this website, are totally and completely responsible for your own health and wellbeing.
This site is not a part of the FaceBook website or FaceBook INC. Additionally, this site is NOT endorsed by FaceBook in ANY WAY. FACEBOOK is a trademark of FaceBook INC.
Because there are so many weight loss scams out there, the following disclaimer is legally required by the United States Federal Trade Commission on any site selling programs or products intended for this use. 
We stand behind our programs 100%, and know they can change your life, and so gladly comply with the FTC and all legal proceedings.
Our disclaimer is as follows:
Testimonials found at leanerforlife.com and associated websites including cartergood.com are unverified results that have been forwarded to or shared with us by users of Leaner For Life programs, content created by Carter Good and Leaner For Life, and Carter Good's coaching program (wherein he utilizes the exact strategies represented in Leaner For Life). These results (as depicted on this page) may not reflect the typical consumer's experience, may not apply to the average person, and are not intended to represent or guarantee that anyone will achieve the same or similar results. If we have disclosed typical results based on information provided to us by a manufacturer or other reputable third party source, you should presume that the typical results as stated are more reliable than the testimonials and other examples found at leanerforlife.com, CarterGood.com, and/or from Leaner For Life or Carter Good. However, you should always perform due diligence and not take such results at face value. We are not responsible for any errors or omissions in typical results information supplied to us by manufacturers or other reputable third parties. If a product or service is new, you understand that it may not have been available for purchase long enough to provide an accurate results history. Again, it is possible that even with perfect use of the program, you will not achieve the results described in testimonials. They are meant to be a showcase of the best results the program has produced, and should not be taken as the results a typical user will get.